Posted by Josh Alberius on Jun 21st 2023
When a small, spindly two-year-old buck grabs your attention while you're checking trail cameras, there's obviously something more to him than just the young rack growing on his head. As I got to scrolling across the remaining photos, I noticed a white patch on the side of his neck, glowing in the sun like a light. This was not a common genetic sign on our East Arkansas farm, located just outside the banks of the White River, so it had me interested enough to keep an eye on this specific buck.
As the summer months passed, photos continuously came in of this buck actively moving across the property. As we texted and communicated about deer within our friend group, he quickly acquired the name Patches.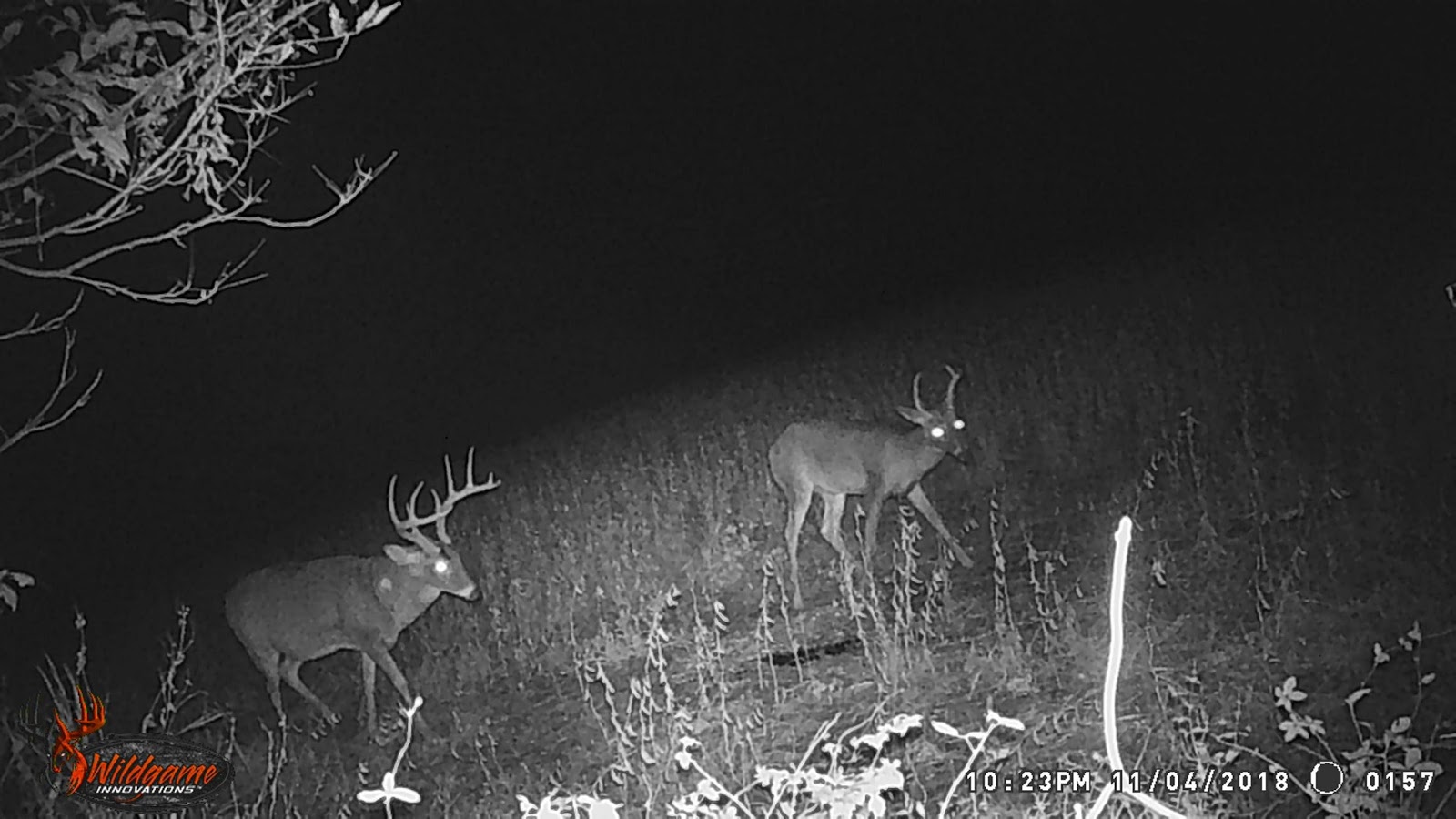 We like to name the majority of our deer for identification purposes. This helps us communicate more easily during scouting missions or while sitting in the stand when deer hunting season is in full swing. We've had names like Big 8, G2, or something else that applies to the character of their rack, the way most people tend to do. But Patches was different. He was one of the first deer that we named for something other than the way his horns looked.
Knowing Patches had to have been two and a half years old when we first saw him, we chose to give him at least two more years before we considered designating him as one of our hit list bucks. This allowed us to gain history and knowledge of the way he moved, as well as the buck population on the farm in general. It was almost like having a tag on this deer. His rack would have gotten mixed in with every other two-to-three-year-old deer on the farm, but that patch made him something special.
Every year that passed, it seemed that Patches found his way within bow range or just close enough to take him with a gun in late November. It was almost as if he knew he was going to get the free pass.
Patches allowed us to document great footage during bow season and throughout the rut in late November. As his four-and-a-half-year-old season came to a close, we decided to take a good look at the jump he made from his fourth to his fifth summer before deciding whether to harvest him or not.
We are fortunate enough to have thick hardwoods, with consistent water sources across the property, so lack of nutrition and pressure was to the least of our concerns. As the hot Arkansas summer moved on, we noticed a big jump in the way his body was developing, but not much in the way his rack was developing. Patches was not a world-class deer by any means. He was above average, but nothing crazy compared to the caliber of bucks taken in this area of the state.
The most important thing he had that some of our previous deer didn't have was history.
Going into the September bow season of his fifth year, we made the tough decision to pass him yet again. The thought of another hunter taking him, or even disease getting him over the course of a year, was a tough pill to swallow. But that is the risk every hunter faces when trying to get deer to their maximum potential in a heavily populated area.
You could tell he was starting to get smarter about how he traveled around the farm. Instead of showing his face in early season during broad daylight, he would lay low till dark and show up just in time for sunset. It's almost like he had flipped a switch. We went from seeing him countless times throughout the year to almost not seeing him at all except for night photos. His territory was shifting and the consistency he had as a four and a half year old was gone as a five and a half year old.
As most bucks do, he ended up showing his face on a cold December morning during the rut. I was in the big timber hunting another buck we were targeting, but Patches had been well known for running the doe there in the past. This was my first time laying eyes on him since his four-year-old season, just over a year prior. He was big. Really big. But we knew if we wanted him to reach his full potential that we must allow him to get to six and a half. He slowly stepped across the road at 150 yards, allowing us to get great footage that would become valuable in putting his story together if we could close the deal the following year.
The 2016–2017 rifle season was here and gone. We ended up harvesting a few nice bucks while managing to keep Patches alive and on the property. It was a stressful four-month period, but we could all breathe now and work on an off-season game plan to keep him around. Spring and summer came with some serious heat. One 100-degree day after the next took its toll, but the thought of a big season to come gave us motivation.
That summer wasn't any different than the rest. We had a healthy drop of fawns and plenty of water and cover. But there was one thing missing, Patches.
This was supposed to be his big year. The year we put Patches at the top of our hit list and went after him with whatever means necessary. We kept our normal routine with the least amount of outside pressure as possible. We were extra cautious not to educate the mature deer while traveling in and out of the property during critical times of the day. It was just a weird feeling knowing we had had the chance to harvest a deer with such rich history, and now he was gone.
September 2018 came around and it was time to get in the bow stands. We had our sights set on two other bucks that we'd been watching. The thought of Patches stepping out was still a priority no matter where we sat. My brother, Nate, was fortunate enough to take down a 150 class buck with his bow the first week of the archery season, so confidence was in the air.
Months went by before we had the chance to see Patches again. I was scrambling for a solution and asking for permission on neighboring land just to see if I could track this deer down.
As luck would have it, just a few days after putting a fresh set of cameras out, we got one single photo on a November night.
He was as healthy as could be and had moved home locations once again. He was working a river bottom that we had never seen him in before and luckily crossed a camera I had put out along a scrape line. This allowed me to zero in on his location and get a feel for his pattern leading up to the gun opener.
Then the Arkansas modern gun season was here and Patches was holding true to his river bottom pattern. I had moved a couple stands around to get in position to hunt him at any time of the day.
The first few days of gun season went by and Nate had put down yet another stud. This time he shot a 170 class buck that had been running similar territory as Patches just days before. It was good to see the bucks on their feet and the rut finally picking up with the cold weather. I had a feeling in my gut every time I went to the stand that Patches could show up at any point from any direction.
November 13, 2018, came with the first true cold snap of the fall. The temperature dropped in to the 30s and the bucks were chasing hard. I went to a stand that I knew Patches would likely be moving across. I was covering a heavily used transition area between the bedding and a plot of turnips and radish. The doe population was dense, so the chances that he would be cruising had me fired up.
I got to my stand, removed my jacket, and got my camera set up. I was self filming, so the process of getting organized took a little more time than for the average hunt. I got the camera mounted onto the tripod, put my binos around my shoulders, and before I could even get my thoughts together, there he was.
Patches made his way out onto the crossing at about 130 yards. I couldn't have drawn it up any better. The wind was blowing straight to me and didn't seem to be in any hurry to move. I got my gun rested, settled in, and took the shot.
I hit him quartering to me, dead center of the front right shoulder. He went down hard and took off into the CRP. It was a quick and clean kill and less than a 50-yard recovery.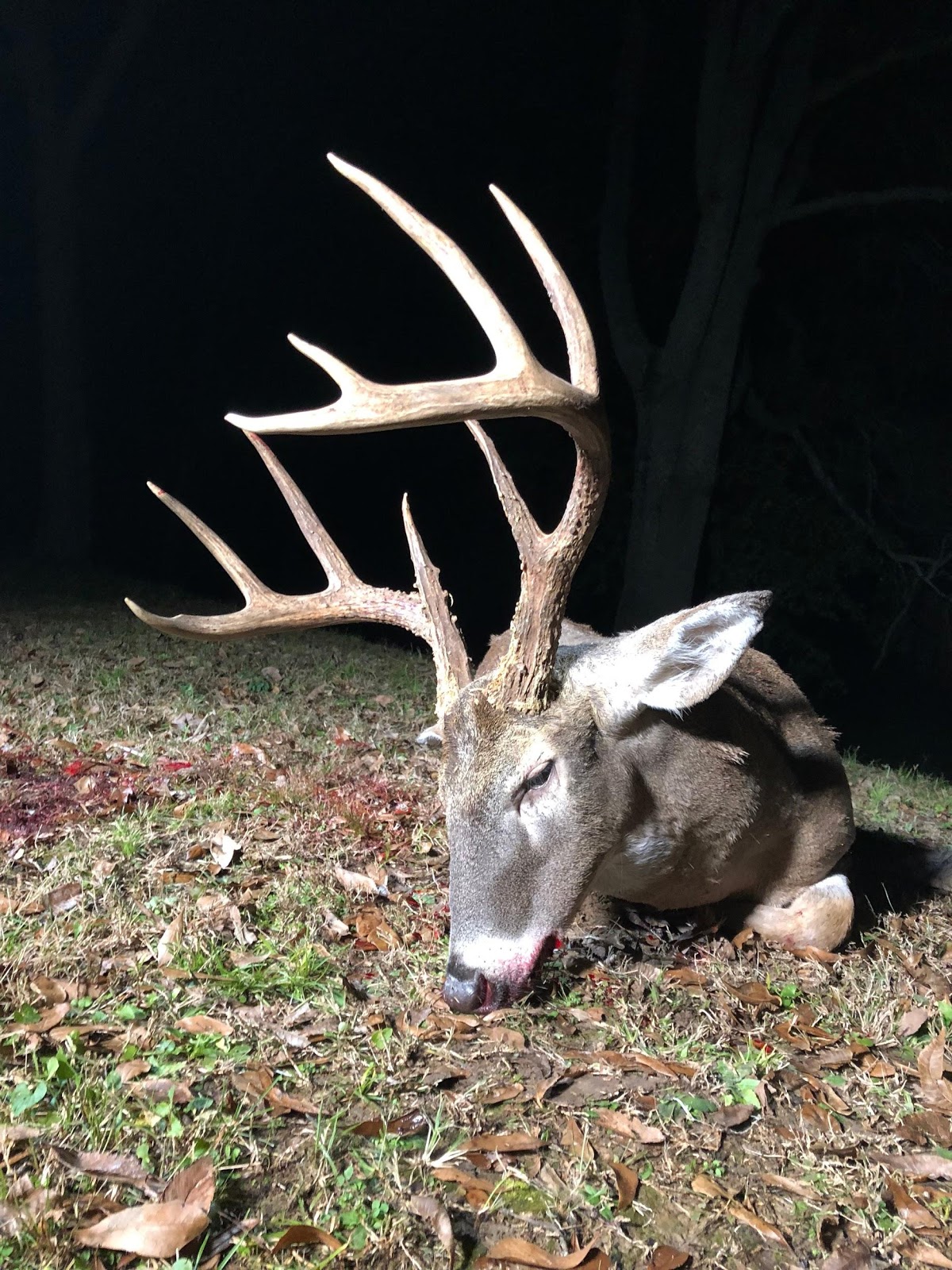 This was the feeling that every white-tail hunter lives for. For me, it was the closing to a long chase with a deer that we had watched for almost as long as we've had the farm.
To be able to recover him on the exact stand where we had first encountered him as a two-year-old was pretty cool. He was a special deer to everyone who worked for that day. He will not be remembered for his body size or the score of his antlers, but for the history of the chase.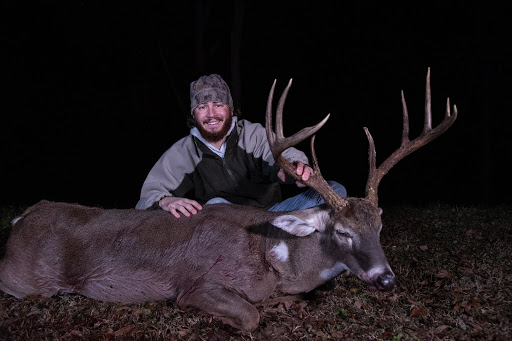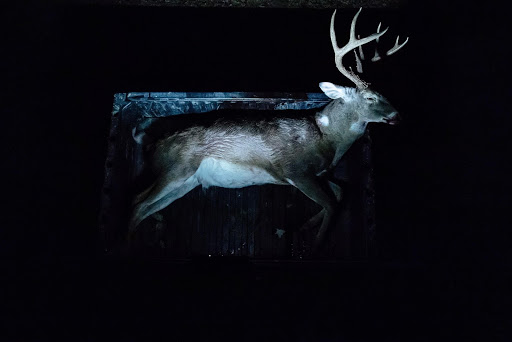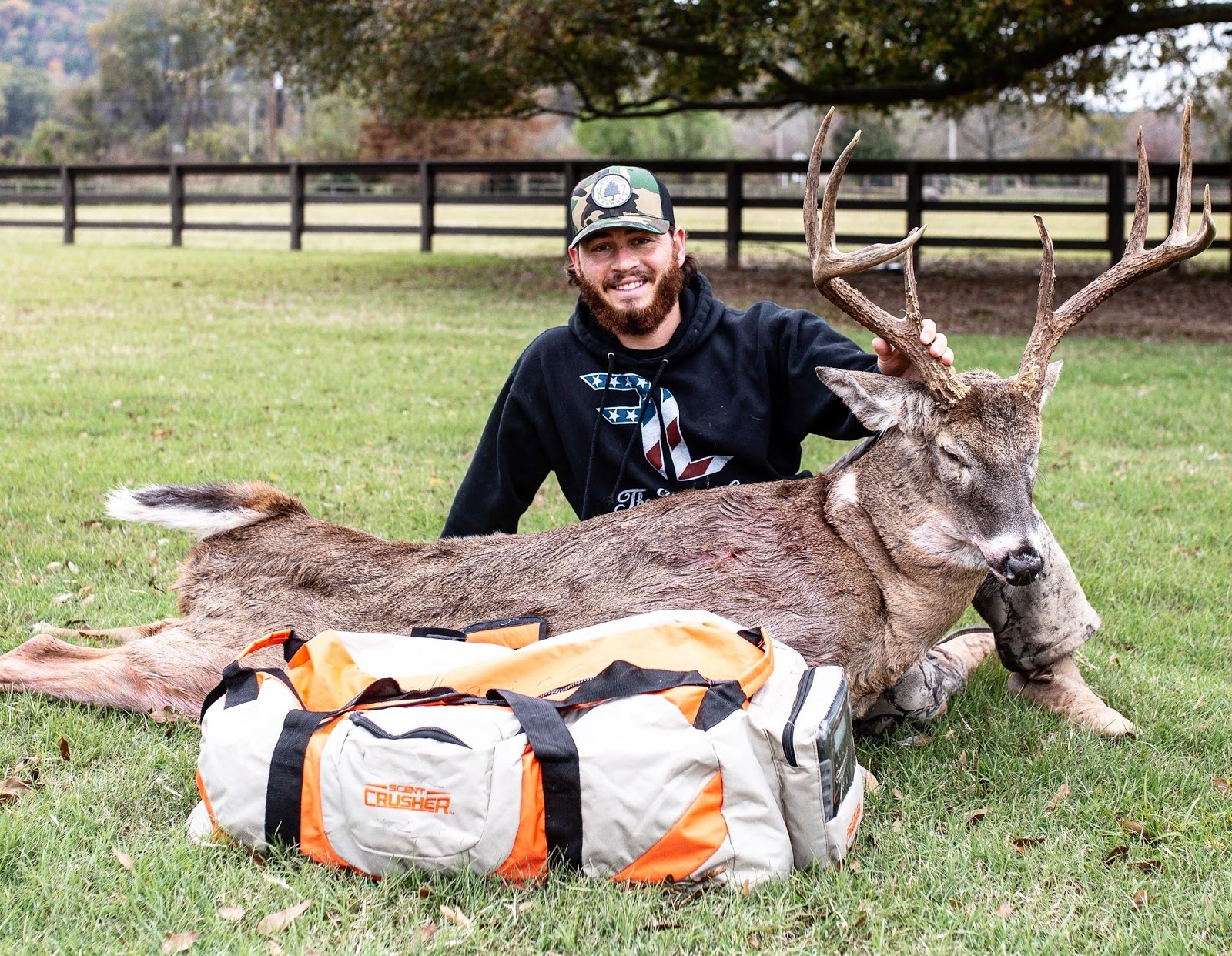 Read more >