Posted by Jimmy DiTraglia on Nov 9th 2022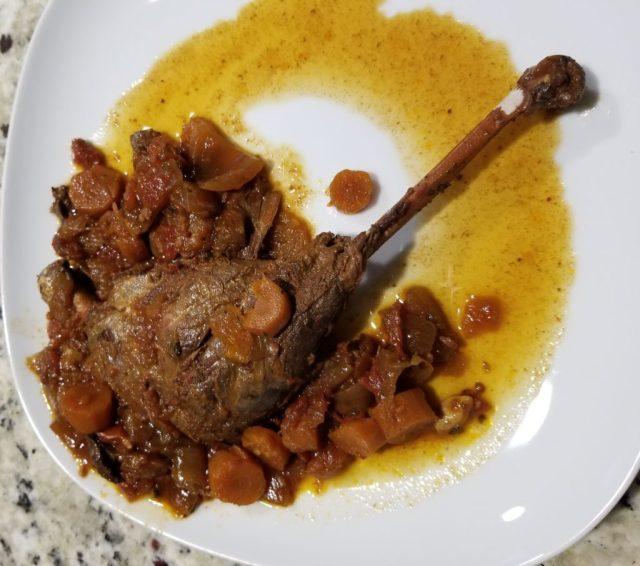 Winter time is stew time. In our house, that would be a wild game stew. Here in Minnesota, winter lasts longer than in other parts of the country. Even in the spring it can still look like winter. As a matter of fact, last April we got 16 inches of snowfall in the middle of the month. It isn't uncommon for some of our lakes to still have ice on them into the first couple weeks of May.
Once February rolls around, you're stuck with cold air and waiting for spring turkey season to fire up. Until then, go through your game freezer and pull out those odd parts that many discard but that I encourage you to keep: deer shanks and the legs, thighs, and wings of waterfowl and wild turkeys. Maybe even go out rabbit and squirrel hunting and throw those in the Crock-Pot for this.
This recipe is very versatile. All of the above would go great in this type of stew. I have made it with venison and also with Canada Goose legs and thighs, and both meats were great. You can adjust the cooking time depending on how soft you want your vegetables to be. I like 12 to 18 hours on this one.
So make a batch, use it to keep warm, and dream of those spring mornings with turkeys gobbling all over the timber. The season will be here before we know it!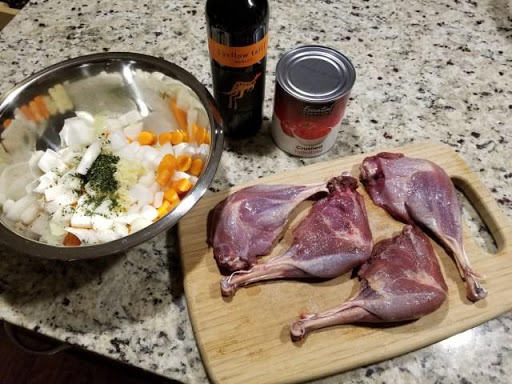 Ingredients:
3 cups chicken or wild game stock
1 tablespoon lard or duck fat
11/2 to 2 pounds of wild game
3 teaspoons fresh rosemary, chopped
2 teaspoons fresh thyme, chopped
10 garlic cloves, minced
1 onion, diced
4 cups carrots, chopped
1/2 bottle red wine (375 ml)
1 28-ounce can crushed tomatoes
Salt and pepper to taste
Instructions:
If working with legs and thighs, salt and pepper both sides. Let them sit for about 20 minutes at room temperature.
Add the broth to a Crock-Pot and turn it on to low.
Heat up the lard or duck fat in a pan over medium-high heat and brown the meat on both sides.
Turn down the heat down to medium-low and add the onions, carrots, garlic, rosemary, and thyme to the pan. Sauté until the garlic is fragrant and beginning to brown.
Add the wine and let the mixture simmer on low for 5 minutes. Stir occasionally as needed.
Add the contents of the pan and the crushed tomatoes to the Crock-Pot.
Cover and cook on low for 12–18 hours.
Add salt and pepper to taste
When finished, you can either carefully pull out one goose leg as I did in the picture above and spoon sauce over it or remove the legs, shred the meat, and then add it back into the stew. The choice is yours and either choice is a good choice!
Read more >