Posted by Shawn L. Daniel (President, Darby's Warrior Support) on Mar 1st 2021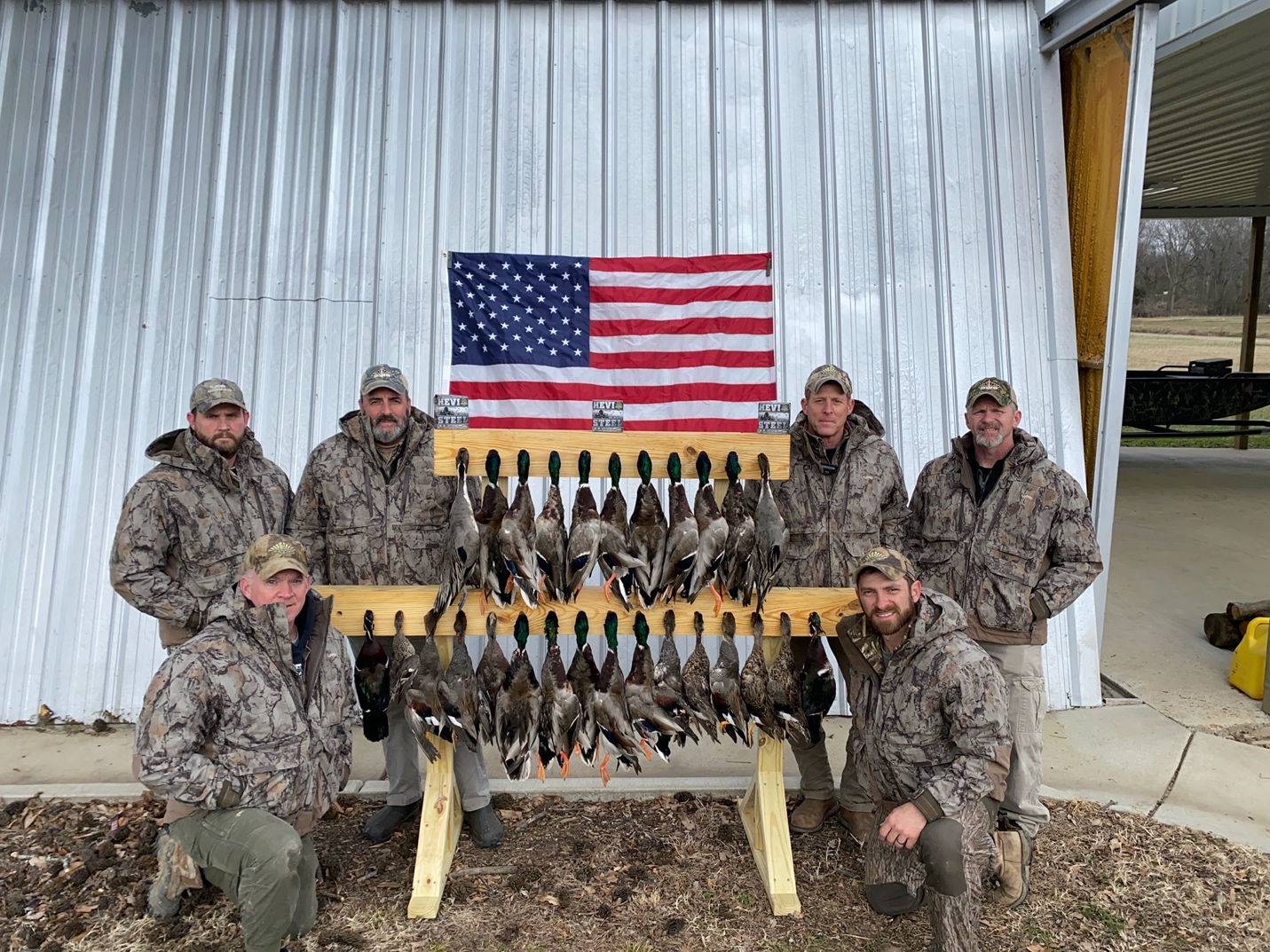 Top Row: (left to right) Command Sergeant Major (Retired) Mike Hack, Colonel (Retired) Art Kandarian, Command Sergeant Major (Retired) Dennis Smith, Command Sergeant Major (Retired) John Brady; Bottom Row: (left to right) Colonel (Retired) Shawn Daniel, Sergeant First Class (Retired) Nick Neuert
The men in this picture represent 146 years of combined military service, and 26 ½ years of combat experience in Iraq and Afghanistan.The story of their hunts together started with chasing wood ducks around beaver ponds at Fort Benning, Georgia while all were assigned to 3rd Battalion, 75th Ranger Regiment.Colonel (Retired) Shawn Daniel was from Arkansas, and he knew and told stories of far better hunting in the Natural State.Unfortunately, their training tempo prohibited a trip during the 2000-2001 hunting season.
Almost immediately following 9/11, 3rd Ranger Battalion deployed and eventually conducted a night time airborne assault into southern Afghanistan on 19 October 2001 – kicking off the ground war in the south.
The battalion would return home in January 2002, and these men would make a cannonball run trip to Arkansas over Martin Luther King weekend to finally hunt ducks in Arkansas.The next 13 years, these men would meet in Arkansas over the same weekend.While harvest numbers improved over the years, the trips became less and less about hunting.The weekends came to represent some time with old friends - friends who had shared hard days together.It was an opportunity to check on a friend, to laugh, and to decompress before the next deployment.
As they retired from the Army and moved into jobs in Corporate America, the annual Arkansas rendezvous faltered.Reminded of who and what in life is important, each of them prioritized the reunion this year for one heck of a weekend.The hunting was exceptional.The company was even better.
Darby's Warrior Support (www.darbyswarriorsupport.org) emerged from this Martin Luther King weekend hunt – an effort to share the healing these men found in each of the weekends they shared.Now hosting 150-200 veterans of our Special Operations community, Darby's Warrior Support provides physically and emotionally injured post-9/11 Special Operations combat veterans with all-inclusive Arkansas hunting and fishing opportunities in an environment that comforts, encourages and fosters rehabilitation, recovery and transition.
Read more >