Posted by Josh Alberius (K Zone) on Jan 9th 2019
The drive from Arkansas to Canada is not a short one. As a matter of fact, none of us knew exactly how far of a drive it was, until I got the invite to join Drew Palmer in shooting photos and video footage on a waterfowl hunting excursion up north.
Drew and I were antsy to get some ducks and we planned the trip for well over a month before it took place. The summer was here and gone before we knew it; and by the time we hit the road, our travel list had grown to include three guys from the K Zone who are part of my weekend hunting crew, James Teague, Blaine Knight, and Jackson Braswell, and my former college roommate, Garrett Rucker.
On September 27, after several days on the road, we crossed into Saskatchewan and drove nine more hours to Wainwright, Alberta. By the time we were all unloaded and checked into the hotel, it was getting close to sunset and we still had to check four or five fields for the following morning's hunt.
Alberta is not like the sloughs of eastern Arkansas where you can watch the birds roost and then smash them the following morning. You must watch the birds leave your hunting location that evening so you know when you show up that morning that you will not bust them off of the roost. We checked four goose fields and one duck pond. Of course, the Arkansas boys were all about the loaded duck pond. That ended up being our target location for morning one and we could not wait to get out there and hunt.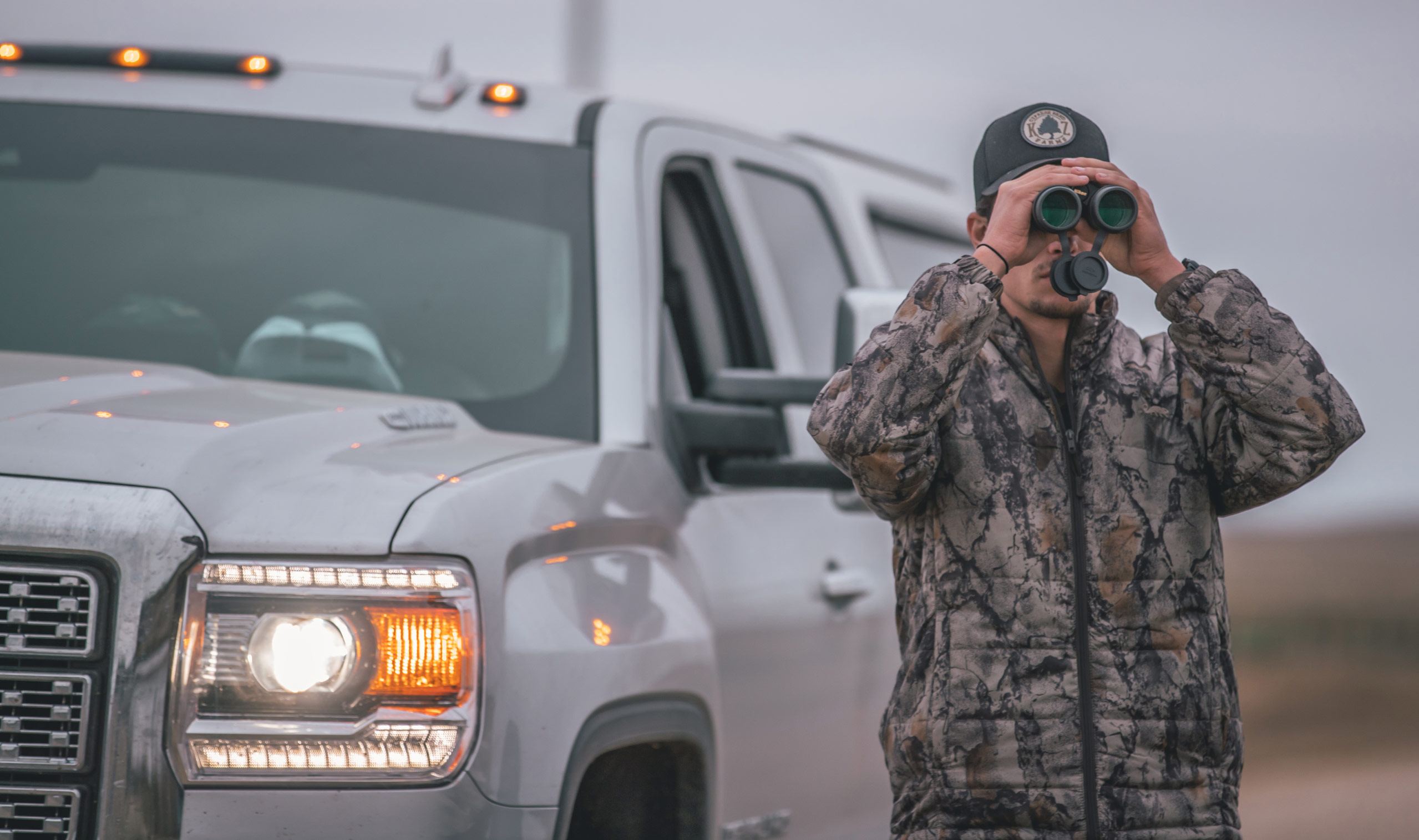 (Natural Gear's Original Camo Pattern)
Day 1:
We met our friend and local, Kevin Bernauer, at about 4:45 a.m. to hook up to the decoy trailer and head to the pond we were set to hunt. As we pulled up, you could feel the brisk 25° F wind at our back and we knew it was going to be a good one.
I was set up on the camera just up the hillside, while Drew, Kevin, and the K Zone boys were down in a panel blind just on the edge of the pond. We spent a good two to three hours pulling ducks out of the sky that morning.
That evening we set out for a goose hunt in a barley field a few miles outside of town. We were targeting Lesser Canadas and bread eaters (big honkers) as Drew called them. We set up layout blinds in the rows of barley, and had the chance to sit around and talk for an hour or two before the birds left water to head back to our feed. A few hours went by and we saw the first wave of Lessers come out of the south. Next thing you know, we were on the X and in the middle of the geese for the last hour or so of shooting time. We ended up with a solid bag in a little over an hour's work and headed in for a good dinner and an early nights rest. The stout harvest of birds on day one was more than we could have asked for. But little did we know, it was just getting started.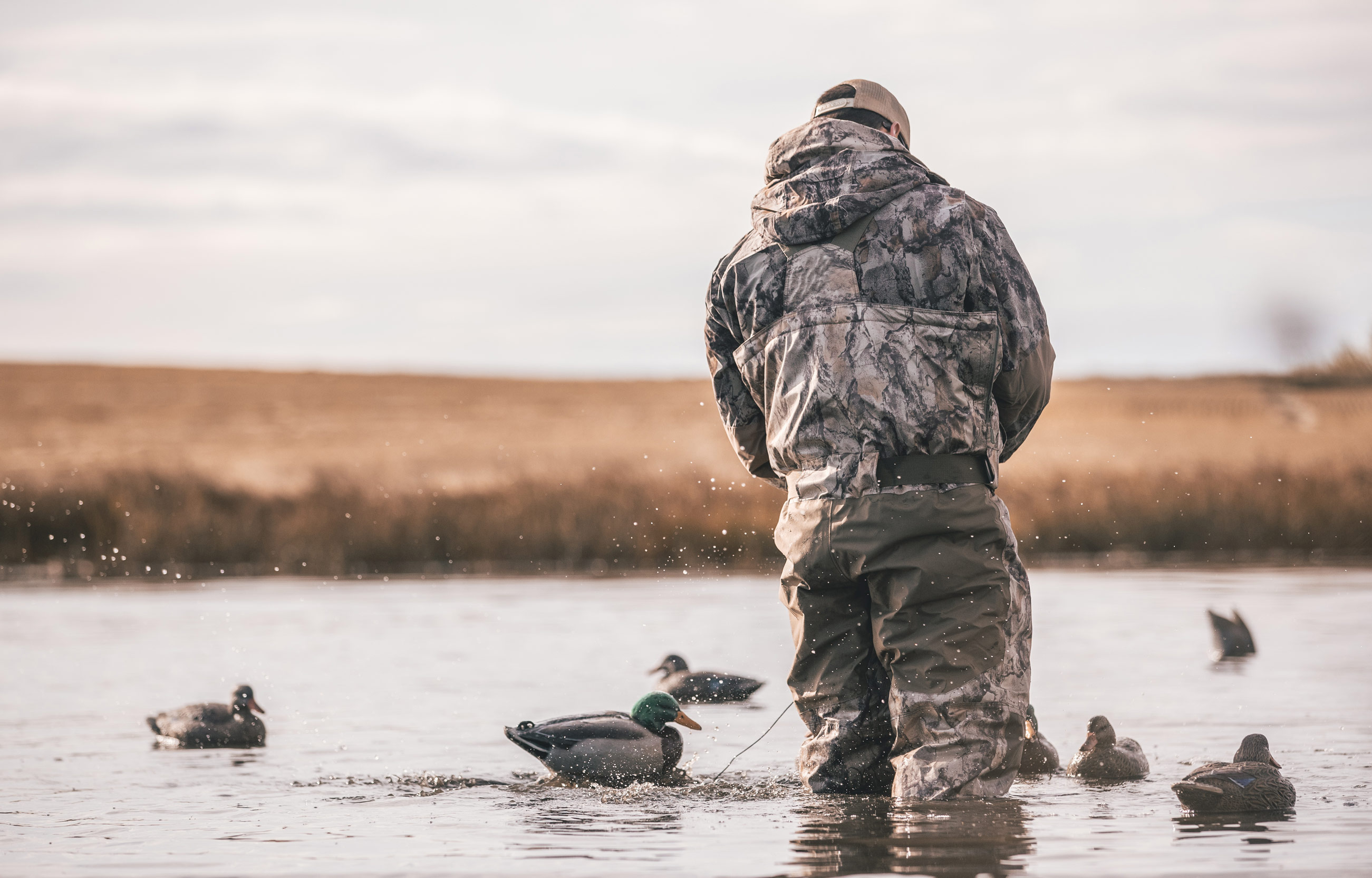 Day 2:
Kevin made a few calls and got a snow goose feed lined up for day two. We were up and going a little bit earlier than normal due to the number of decoys we had to set out. We ended up spending two hours putting around 1600 decoys out in a barley field. The spread was legit to say the least. In Canada you can use motion decoys and electronic callers for snows so this was a guaranteed smackdown if the wind would pick up. Sure enough, it did, and we ended up shooting a number that I would never have dreamed of. A big pile of birds before noon was a good finish to the morning. We decided to let the barrels cool off and take the rest of the afternoon to scout a dry field for the Lesser hunt the following morning.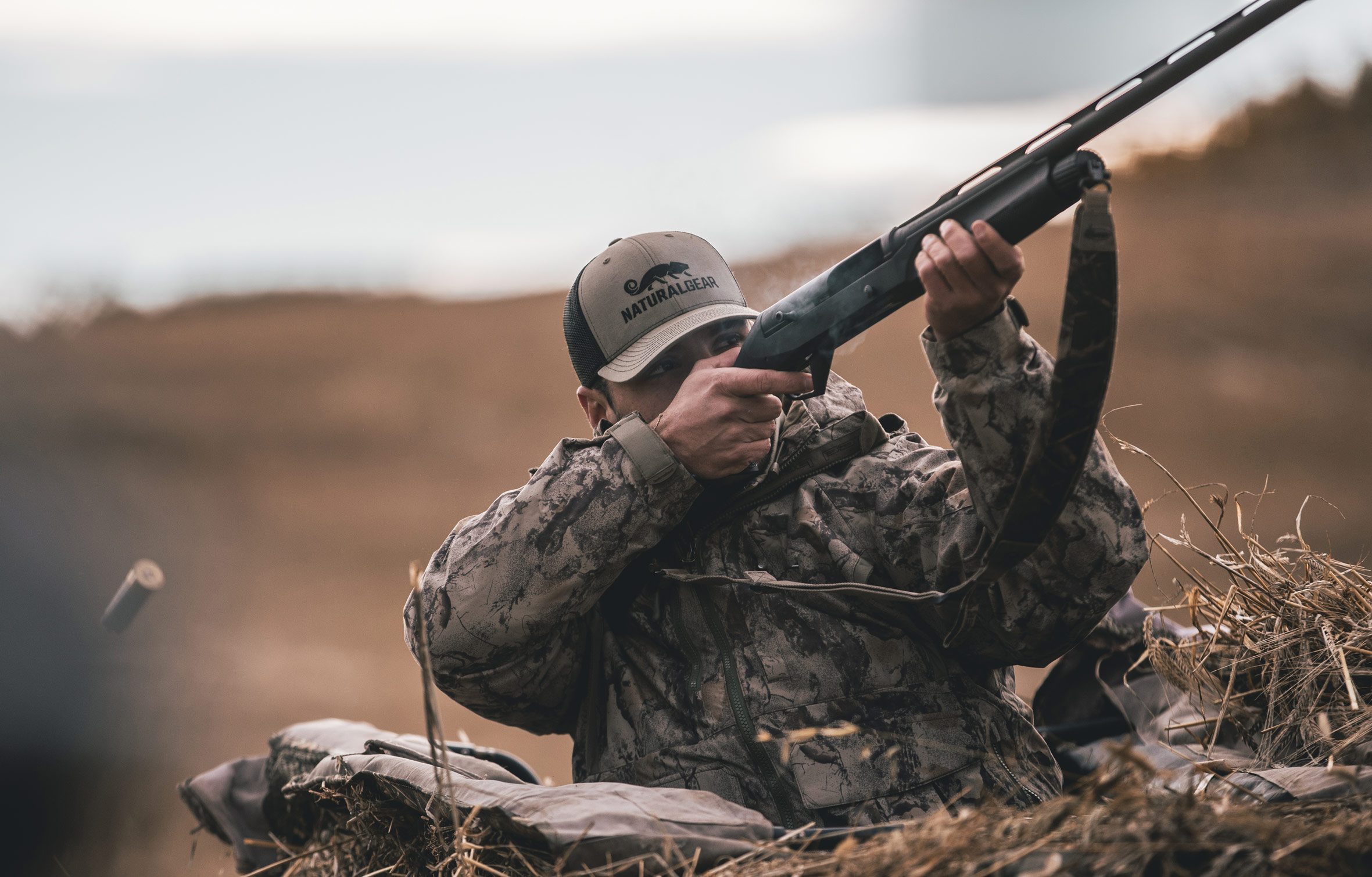 Day 3:
By the time day three rolled around we were very slim on options as far as fields to hunt. We knew our day four and five hunts were locked in and looking promising, but day three was the best sunshine yet and we knew we had to be in the field somewhere no matter the bird numbers.
We found a feed of about 300 to 400 Lesser on a hillside and pinned it the night before. After getting there that morning we noticed that the cover was going to be limited so we decided to split into four groups and space our blinds out two and two in the rows of barley in order to maximize cover.
Now for me this was a nightmare, because having to run audio over 25 yards of spaced out layout blinds was not happening. I ended up getting some footage here and there, but Drew and I decided to head to the hilltop about 120 yards away and try to get some cool photos of the birds into the spread. We ended being able to spot birds better and got a few shots that we otherwise wouldn't have gotten if it weren't for the lack of cover. All in all, it turned out to be a much better morning than anticipated and we finished with a nice pile of geese within just a couple of hours. Everyone knew that the afternoon was going to be a home run since we had finished over half of our limit that morning.
3:00 p.m. rolled around and were were back in the dry fields of Alberta targeting Lesser geese. We were in a field full of hay bales, so I was able to hide the camera fairly easy and get some incredible footage over the top of the shooters. We smashed our geese in just over an hour with some bonus ducks.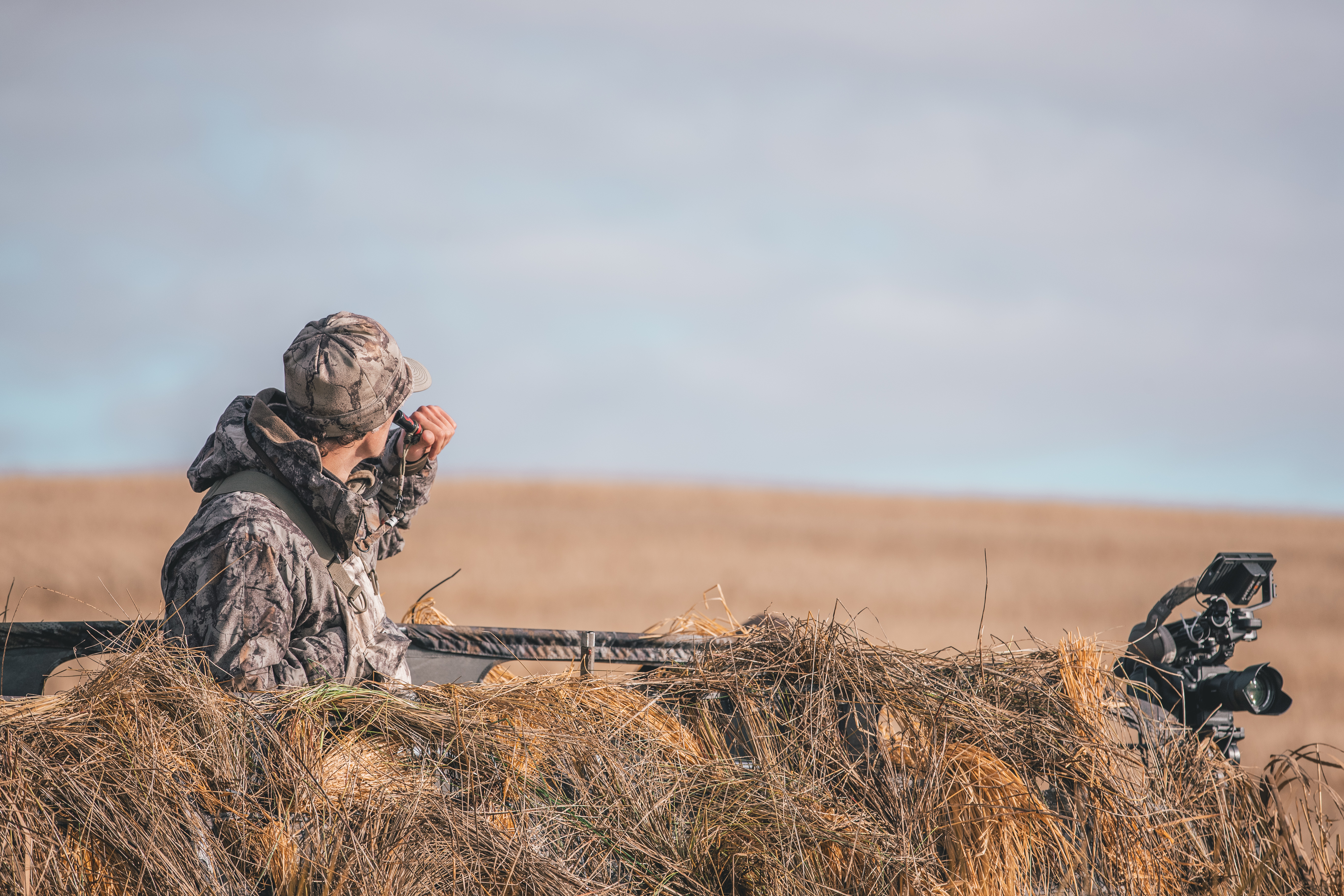 Day 4:
Day four was easily the best day yet. We had noticed a large number of ducks going down on a hillside about two miles north of where we had goose hunted the previous afternoon. We left our goose spread on day three and went to scout this hillside for the morning of day four.
It was the most incredible thing I had seen since we had arrived in Alberta. There were thousands of mallards and pintails landing in a one-acre
pond and walking up on a hillside to feed. We knew it was going to be a smackdown if we could get the birds to leave for the night and not roost in the pond.
I guess you could say America was watching over us, because an eagle swooped down toward the ducks and flushed the entire roost up at once. We watched every single bird disperse and leave the hill side. We were in disbelief. This was the most fired up I had seen Kevin yet.
We arrived early to the field so we could get set up and let the birds starting filtering back into the feed. Long story short, we shot a mess of mallards and pintails in less than 20 minutes. This was one of those mornings that we dream of having and we couldn't help but burn through birds in that short of a time. We were eating breakfast at 8:30 a.m. and back at the hotel by 9:30. We had three hunts remaining on the trip so we had to get back out and put a dent in the geese.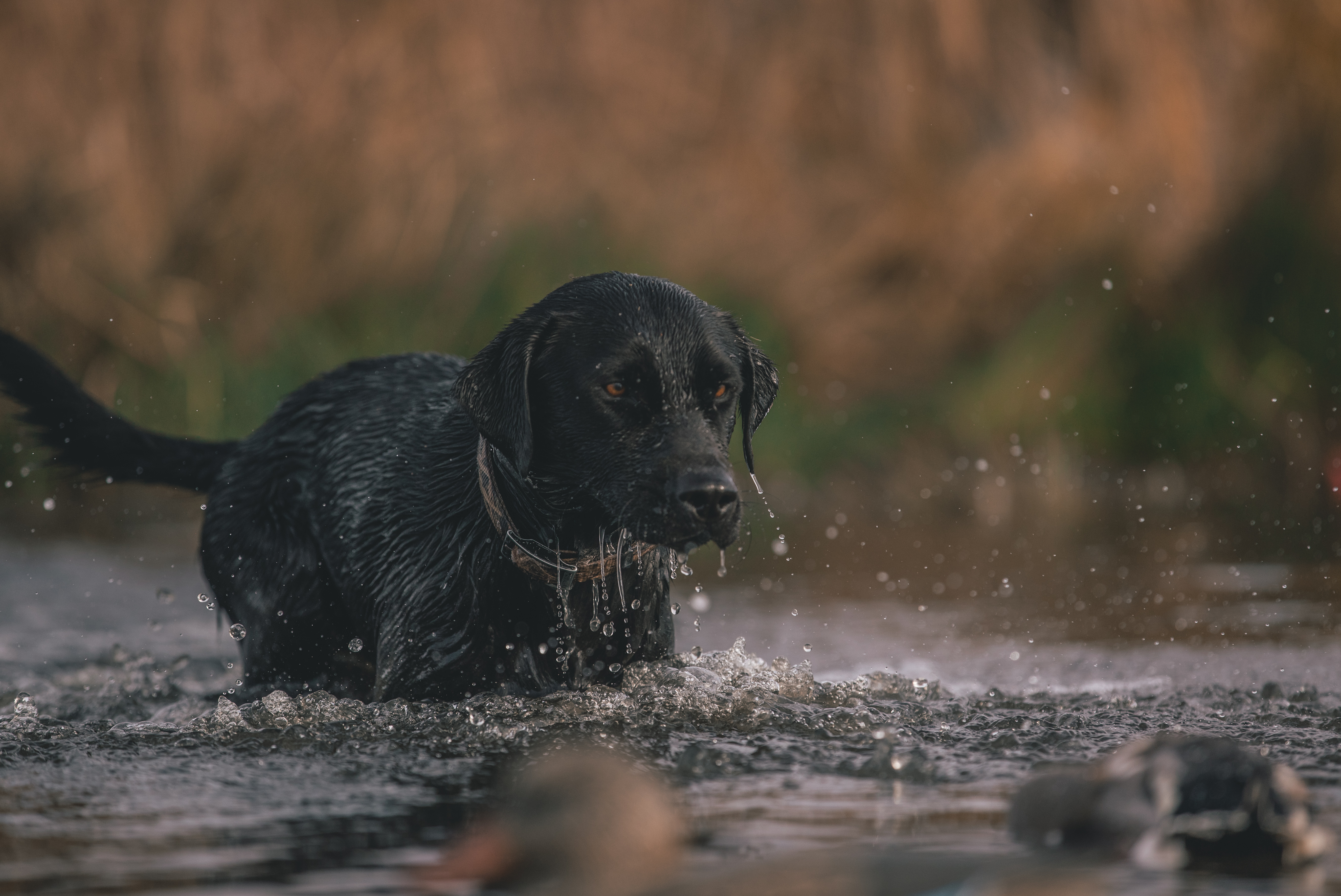 Evening:
That evening we set up on a similar hillside overlooking a lake that had been holding birds all week. We were doing photo shoots for full-body decoys and layout blinds, so this worked out perfectly. We had ring stands on the bank and behind us and a spread of about 400 snow rags on top of the hill to pull birds from a distance. We shot the dog out of the specks and Canadas and had the opportunity to take a photo with all of the birds from that day. It was another great day and we still had one more day to go.
Day 5:
Day five was the final day of the trip. We went back to the same hillside where we had success the previous morning. We hadn't even seen a fraction of the birds that used that feed, so we were back on them again at sun up. We shot a good pile in less than an hour and decided to save the rest for that evening.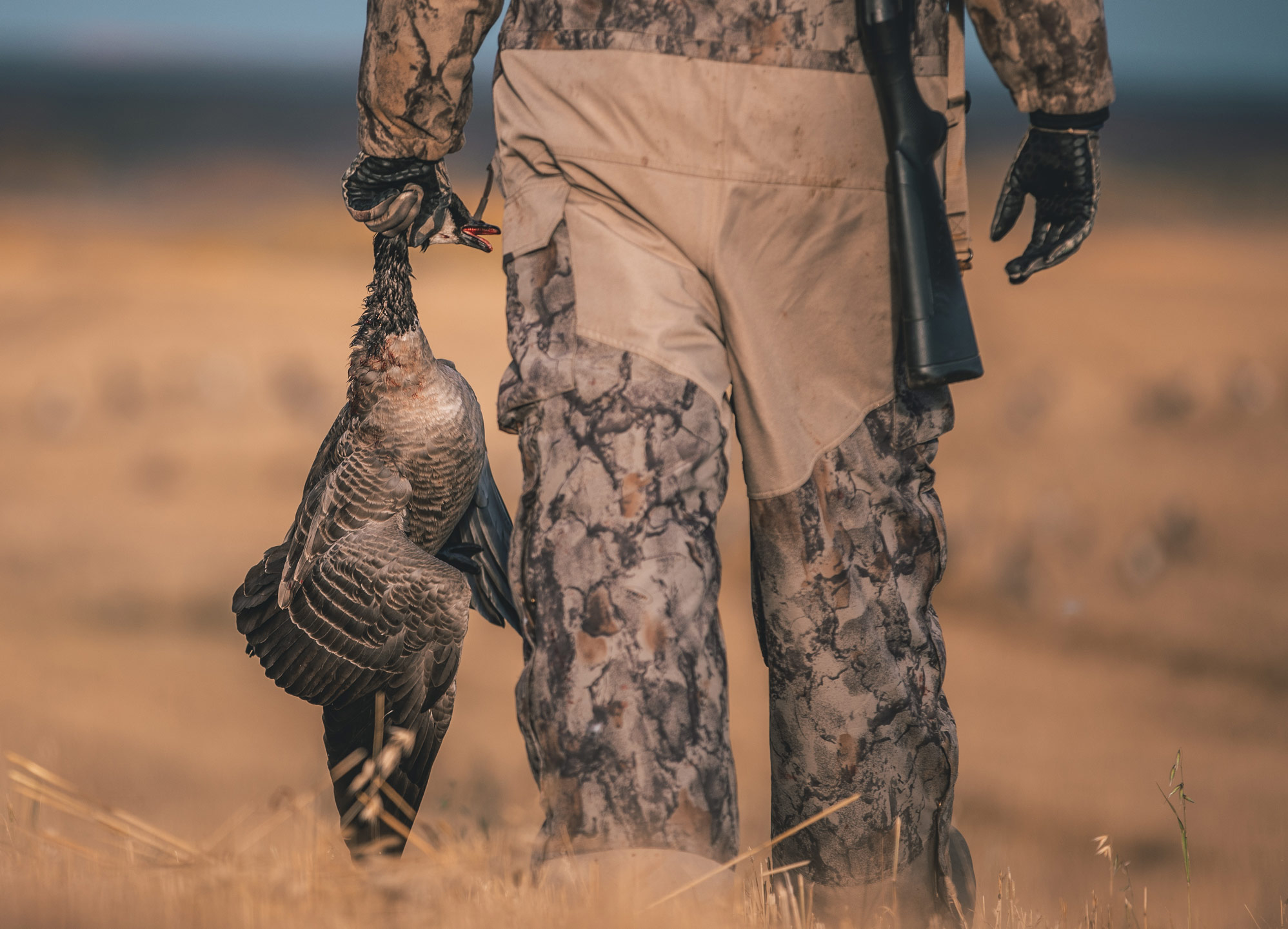 (Natural Gear's Tactical Pant)
Evening
The final evening we went back to the same location as the morning just on a different hillside due to wind changes. We ended up making a game out of the deal and seeing if we could get a slo-mo over the shoulder kill for everyone that was hunting. Of course, the bird numbers were outrageous and they were coming into the decoys in wads of 20 and 30. I ended up getting several over-the-shoulder slow-mo kills and then we finished up as a group. I got some incredible video clips to top off an entire week of world-class duck and goose hunting.
All in all this was the best duck and goose hunting experience I've ever been a part of and I cannot wait to do it again next year. A huge thank you goes to Drew and the guys at Hardcore Brands for making this trip happen. Thank you to Kevin for putting us on the birds every single day and for bending over backwards to make sure that we were accommodated. And a big thanks to John and Hunter at Nat Gear and Josh and Taylor at Banded for making sure we were equipped with the best stuff on the market and looking right for the five days of cold temps. And a final thank you to all of the K Zone boys who dropped what they were doing here in Arkansas to help us get the content we needed for Hard Core and Nat Gear every single day of the trip. It was an incredible time and I look forward to releasing the photos and videos in the near future.
Read more >