Posted by Drew Palmer on Aug 15th 2022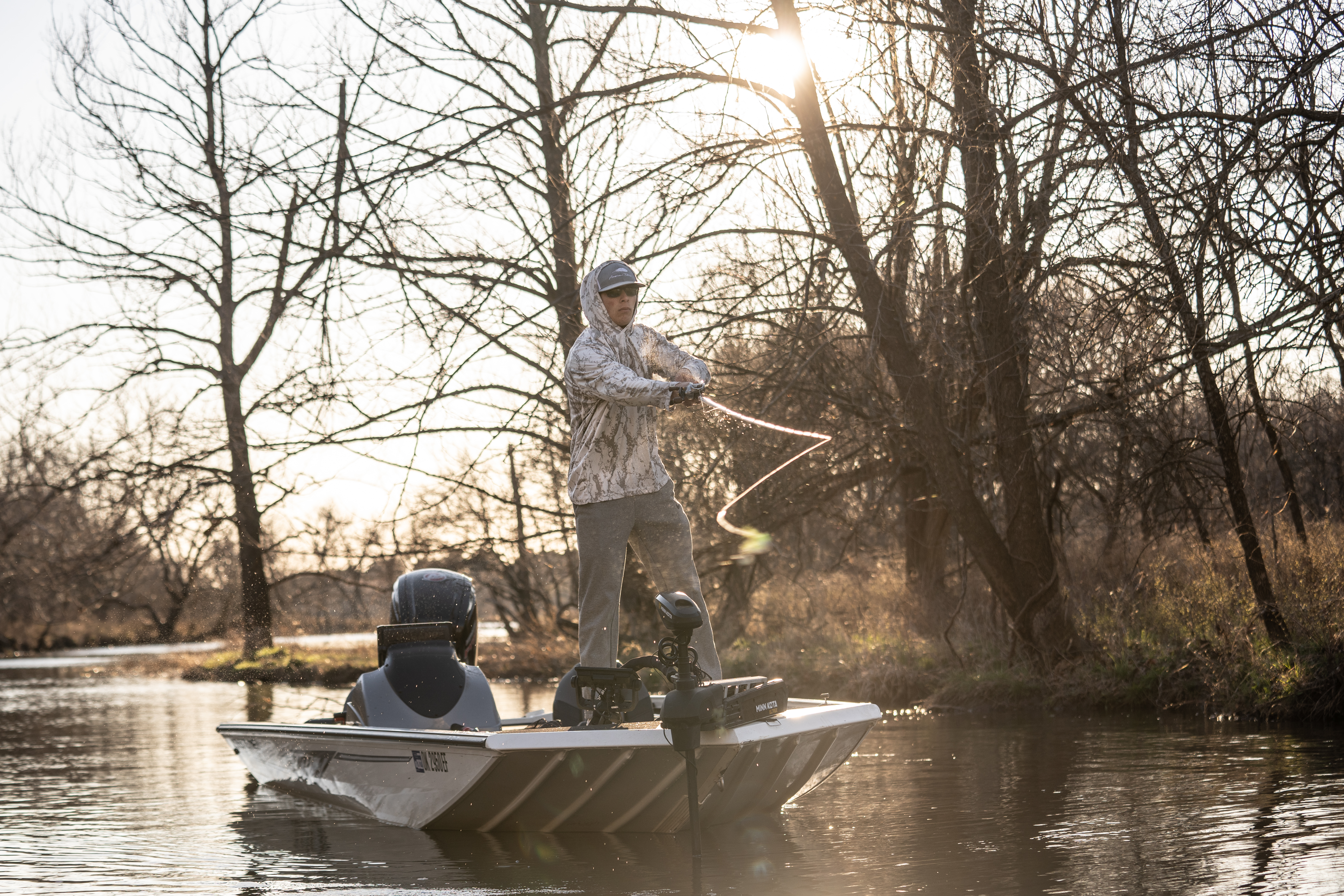 Like most of us, I started as a kid with one rod and was a pond fishing champion in my own mind. Fast forward several decades, I still love to do some pond hopping and get a raw thumb. The months of May and June are a great time to catch your best bass of the year. I'll break down three baits and setups for both spin tackle and bait cast rods and reels for fishermen of all levels.
As the water rises into the mid 60's, bass are pulling up shallow to spawn. I've always believed that the biggest bass will pick the best spawning areas. Pulled up next to a log or tree in 3-4' of water, next to rock or weed lines in ponds, or just primary protected points. Bass will use the same terrain patterns found in large lakes, only in smaller schemes in ponds and watersheds. Less is truly more here. If you don't have a small Jon boat or scamp, one of my favorite ways to catch big spawning bass is a pair of chest waders and working parallel to the bank. I want to cover as much area as possible in that 2-4' of water range, and working parallel to the bank allows me to do that. After, of course, I pick apart all obvious primary targets like logs, rocks, barrels, etc., that are common in farm ponds.
Pond fishing is about simplicity, so my setups are usually indicative of that. I prefer baitcasting reels and rods to match to provide me with a bit more hook setting leverage and power to move fish through milfoil or hydrilla commonly found in smaller ponds. Some folks struggle with casting the traditional bait cast reels and feel more comfortable with a spin-cast reel, which is equally effective.
On spinning rods, a good $75 - $125 rod and reel combo will do plenty of work for you on pond fishing. The ticket is getting between a 7'3 and 7'6 medium-heavy or heavy rod action with a fast or extra fast tip. The longer rod gives you an advantage on lift and leverage. Spinning rods excel with throwing light baits and medium rods, but we ask them to pack a bit more oompf on the hookset in thick vegetation. So a medium-heavy is a must. When spooling your line, pay attention not to spoil too much on the spin cast gear. Too much line will cause the spool to loop or come off the end, resulting in a nightmare "birds nest."
With the baitcast setup, tacklewearhouse.com is flat-out hard to beat on price and options. I'm a huge Falcon Rods fan, and the company is based out of Tulsa, Oklahoma. The Falcon HD series is a $70 rod with a ton of value for the price. I like to go with a 7'2 medium-heavy with a fast tip as well here. Paired with 12lb fluro. I like the Quantum Vapor series reels or Lew's Speed Spool for the price. I like a 6:4:1 in a pond rod because it can just do it all.
I'll start with my three favorite baits on the spincast setups. First, I'm going to go with a 6" paddle tail or trick tail Finesse worm Texas rigged or "weedless" with a 1/8" oz bullet weight on a size 3 wide gap hook. The only three colors I carry in this are watermelon, red pepper flake, red plum, and a black and blue color. I like the WRP in clear water and sunlight and darker colors in the clouds or stained water. Next up on my list is a 3.75-4.25" Strike King Rage Swimmer in a bluegill green, blue pearl, or silver shad color. I pair this with a size 3 1/8th or ¼" oz swimbait jig head. Last on my list with spin tackle is the KVD 1.0 or 1.5 square bill crankbait. The other reason I love this small crankbait is that crappie absolutely crush it also.
For my baitcast setup, I will always have a swimming tied on. It's weedless and has the flare of a small crappie or bluegill darting around cover, raiding fry on bass beds. I'll pair it with that 4.25" Strike King Rage Swimmer on the back. I carry two colors, a white with green or black flake, and a watermelon greed with chartreuse or orange flake to simulate a 4" bluegill. I pair those two options with a swimbait trailer to match. My next bait is going to be a chatterbait or bladed jig. I like to go with gold blades on bluegill-colored presentations and silver blades on white baits. I pair these with a matching swimbait. My last pick for my pond hopping bait cast arsenal is a 4" creature bait Texas rigged. I go with this vs. the finesse worm because I want this bait to hop more laterally, like a fleeing crawdad or baitfish.
Farm ponds require fish management to thrive. Throw trophy bass back and cull the 10-16" bass. Big bass have better genetics, and you're doing the single worst thing possible by culling big bass out of ponds and not the smaller stunted fish. There is nothing to be proud about throwing 5lb bass in frying grease. Its science and quality stewardship of the land.

Read more >