Posted by John Adams (Natural Gear VP of Product Development) on Feb 11th 2019
Those of us who grew up turkey hunting in the '80s came up in a time when turkey populations across the country were expanding and becoming common in places they hadn't existed in years. Thanks in part to the efforts of many state DNRs and the National Wild Turkey Federation (www.nwtf.org), there is now a huntable population in all 49 states of the continental U.S.!
For the last few years, my focus has shifted not only to hunting new states each year, but also to going places I have never been. As many turkey hunters will tell you, the species exists in some beautiful places across this great land; so a hunting road trip isn't just about the hunting, but also everything that goes along with it.
Just this past winter, my main turkey hunting buddy and I planned a spring trip to the Black Hills in Wyoming and South Dakota. Between the two states the Black Hills cover 1,958 square miles, much of which is public land that is open to everyone and home to magnificent White Tipped Merriam's turkey.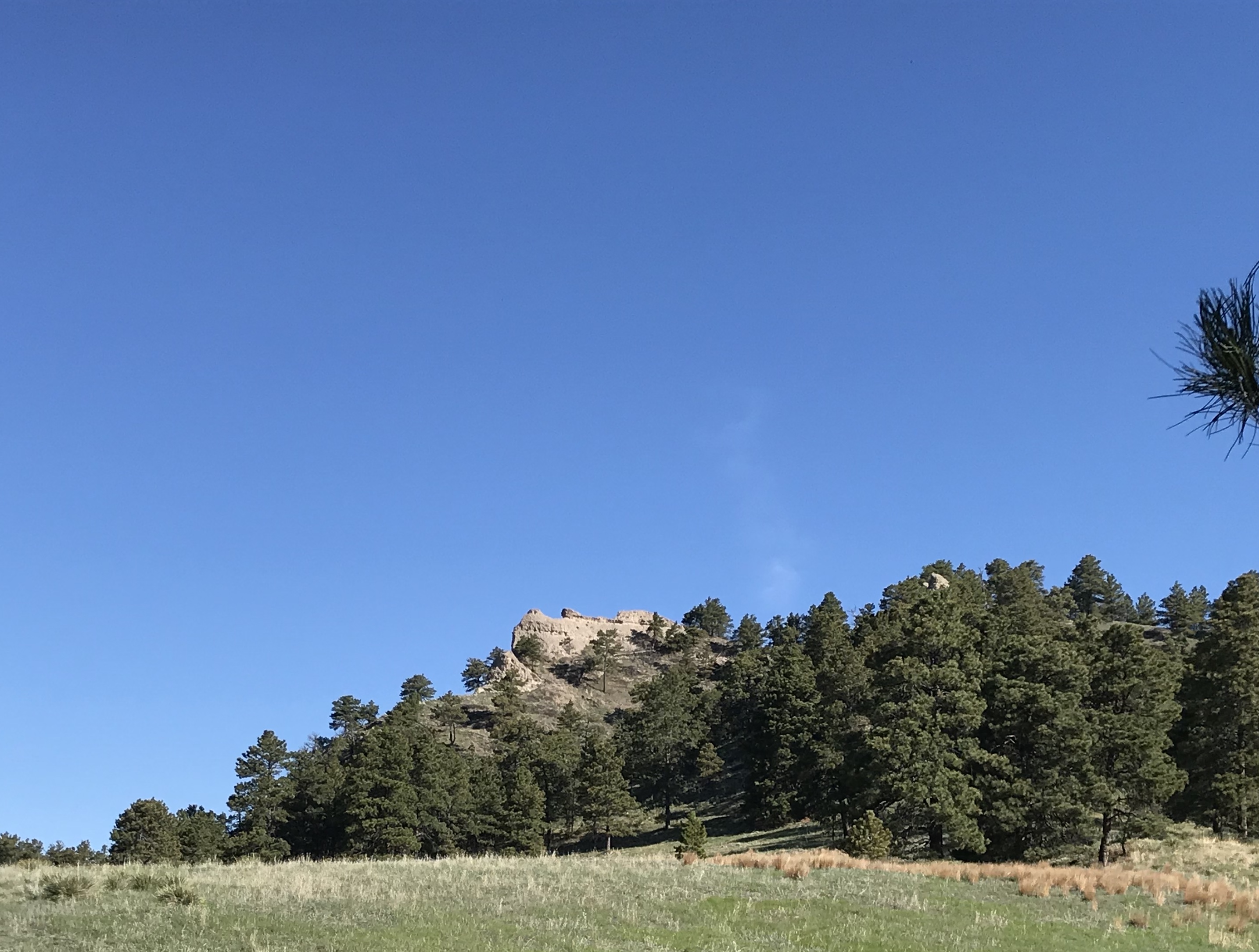 We left our home here in Arkansas in the early morning and rolled in to our initial destination in Wyoming at about 9 p.m. The next day we set out early and made our way to a good listening post. It was a clear and cool spring morning, a great day for gobbling. And as luck would have it, I got a shock gobble within reasonable distance to my owl hooting and we set off in his direction to get an ideal set on him.
When dealing with unfamiliar territory, my first set usually won't produce the perfect setup, but we were on about the same level as this gobbler within 100 yards and on the edge of a log loading deck that was pretty clean. I had visions of the gobbler sailing from his perch at flydown time and landing in our lap. But those were only visions; these are wild turkeys ya know! We were a few weeks into the season, and on public land, so there was a good chance this ol' gobbler had played the game a few times before.
He answered our calls very well and I really thought we were going to have a first morning bird down; but as sometimes happens, there was some hen chatter on down the mountain and away he went not too long after he hit the ground. Merriam's turkeys can really cover some ground and we were hunting some fairly steep hill country with an average elevation around 4000–6000 feet, so us southerners were still getting accustomed to the thinner air. Even so, the scenery in this country is something to see—mature ponderosa pine, rock outcroppings, aspens, snow patches, and scattered grassy openings—all of it not only aesthetically pleasing, but also great habitat for game.
We spent the rest of that day getting our bearings and doing some "in hunt" scouting and found some birds. We actually lucked into one around noon that day and our first Merriam's gobbler of the trip was in hand and I was tagged out in Wyoming!
We decided to make our camp within easy distance of the birds we found and got some roosted for the next day. We were in the game right off the bat the next morning; but after logging several miles on foot and having a couple of close calls that second day, it just wasn't to be. The sights continued not to disappoint as we got to see mule deer, whitetails, and a nice herd of elk.
We roosted that second night and were set good on a gobbler the next morning. After a couple of different maneuvers, he strutted right to us and we were able to get Merriam's gobbler number two in the bag. He was a beautiful bird! We took a lot of pictures, got him processed, broke our camp down, and headed for South Dakota.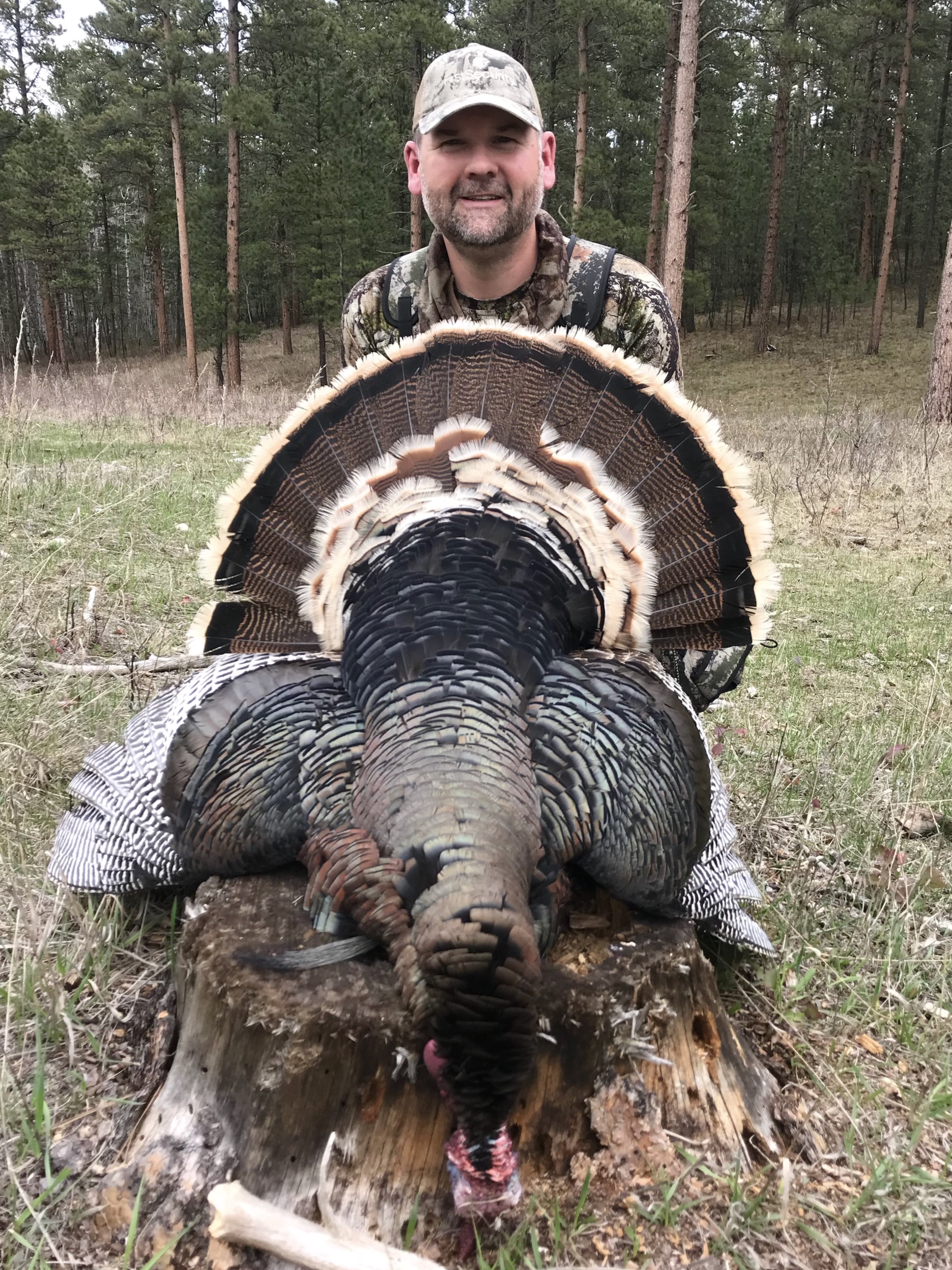 After getting our camp packed up, we were on the road with maps in hand. I had picked a couple of areas that looked worth checking out, so we headed that way. Upon arriving in the area, we did some driving around to get our bearings and settled on a camping spot.
We spent that evening attempting to roost birds without any luck. I was a little worried, as a thunderstorm had rolled through without a sound from the turkeys; and to not hear turkeys, especially Merriam's, gobbling at thunder was surprising. We made plans to start out the next morning at the head of a closed road that accessed a huge lot of timber that would surely hold a gobbler. As luck would have it, my first owl hoots in the predawn were answered by a distant gobble.
We had some ground to cover, around a mile and a half, so we hustled the best we could. As we closed the distance, I began to study the terrain on my onX Hunt app. As far as we could tell, there was a gobbler and some hens and jakes all roosted pretty close together on the edge of a big meadow.
It was breaking daylight fast, so we booked it around the little ridge that led down to the meadow and got as close as we dared. Then we noticed a herd of elk and mule deer feeding. This was an amazing sight for a couple of southern fellas. We stood in awe for a minute before the gobbler let loose again and I remembered what we were there for!
I didn't like our setup; as anyone who has dealt with turkeys around a field before knows, they tend to be hard to get to come. And this gobbler had a load of hens. They were about 150 yards away out in the field as they began to fly down, and there were a couple that were annoyed by my calling and making a lot of calls. I poured the calling on and the boss hen and I called on top of each other for a long while.
The ol' gobbler was losing his mind gobbling, and to our surprise he came right to us in full strut leading the entire flock of hens and jakes with him. He was doing that fast strut walk and about to be in our laps! I gave a sharp cluck and he stopped and ran his head up for the perfect shot opportunity; the big Merriam's gobbler was down!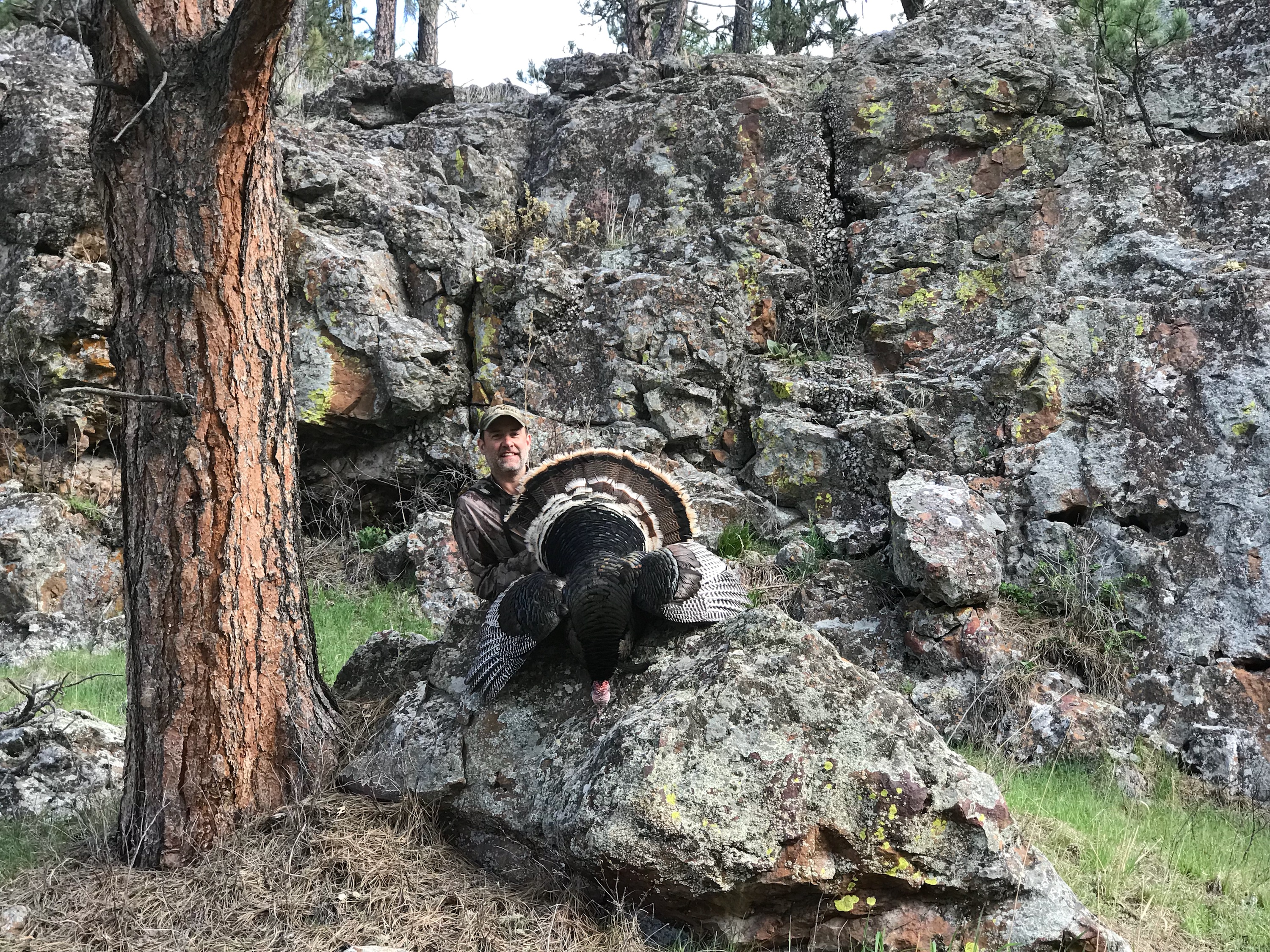 As we walked out to him, we saw what a spectacular place this gobbler called home; a big green grass meadow in between two huge ponderosa pine ridges, where all the local game seemed to like to congregate.
We spent the rest of that day covering ground on foot and finally ran on to a hard gobbling turkey in the early afternoon. Though he never came in, he gave us a great starting point. We decided our new camp home would be within easy distance of this new gobbler.
As I looked at our map I noted it was only an hour or so out of our way to go see Mount Rushmore, so we made the cruise over to check it out. The country and little towns surrounding the big tourist attractions are awe inspiring. This time of the year (May) the Black Hills are just coming to life, as a lot of the businesses and accommodations close for the winter.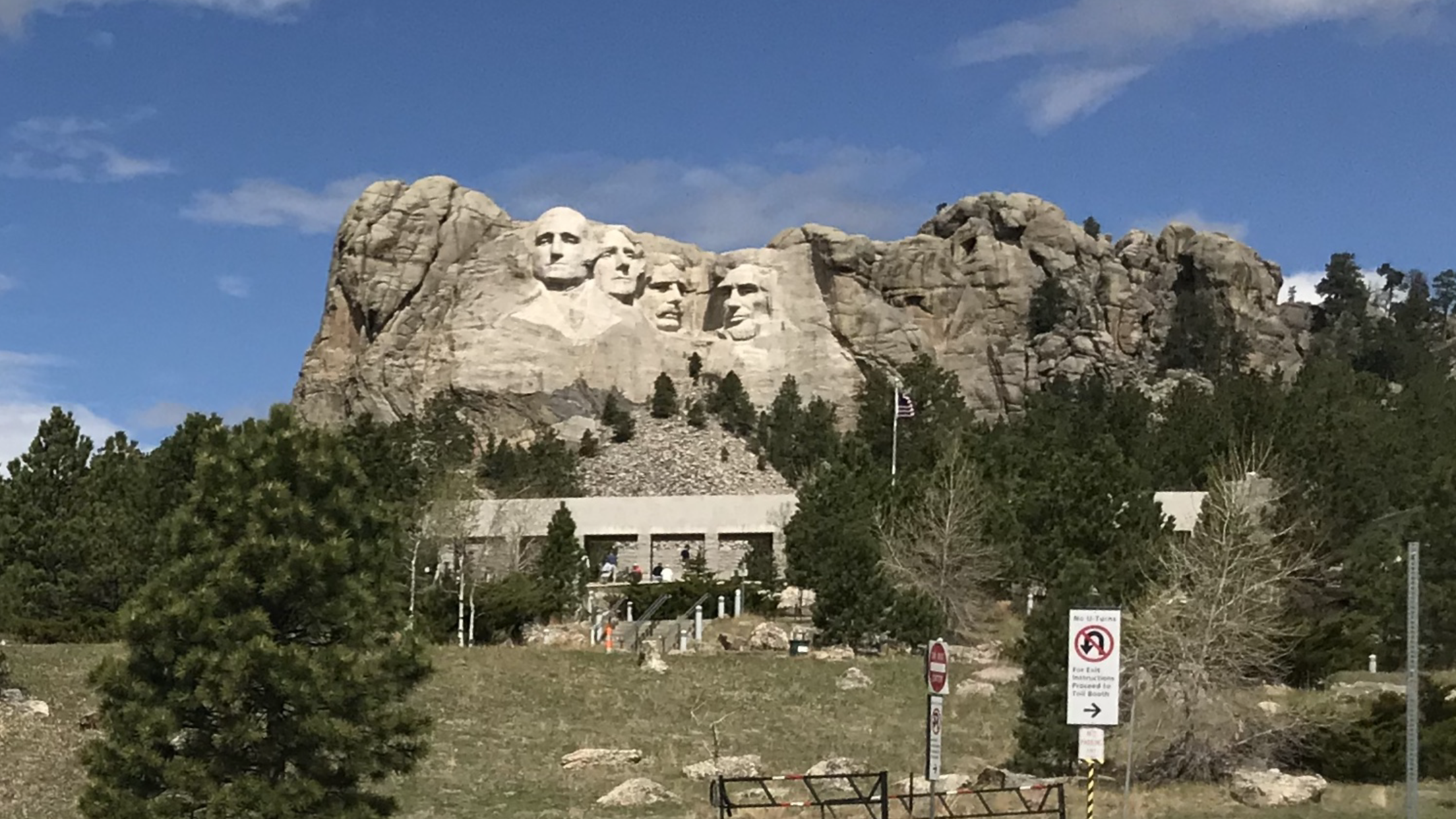 After we got our touring out of the way, it was time to go get tabs on that gobbler from earlier in the day. I had planned to set up on a high ridge near where we encountered him before, hoping that if we couldn't work him or another gobbler we would hear something once they went to roost for the evening. I was shocked when my series of loud calling was answered about a half mile away on this calm afternoon.
I had an idea about where this gobbler was and we made a move in his direction. He continued to gobble, allowing us to get set up within a couple hundred yards of him as he was out in a big open meadow. I didn't expect he would want to come to us from that field at that time of the day, but we really had nothing to lose. He seemed to like the loud calling, so I poured on him and within a few calling sequences and probably 10 minutes, he was fading our way. I wasn't long until we heard that unmistakable sound, "pftttttttttttt drummmmmmmm." It was music to my ears.
The gobbler appeared to my right just a bit and then went behind a big ponderosa. I made an adjustment with the gun, and when he came out from behind it a sharp cluck stopped him in his tracks and he raised his head high. The Beretta barked and the second South Dakota Merriam's gobbler was in the bag.
It was about an hour before sundown and we were tagged out in South Dakota, so we took a lot of pictures and admired that fine gobbler, the fine surroundings, and the fantastic country we live in. We were thankful for the entire trip and the thousands upon thousands of opportunities in this country for sportsmen. If you're willing to do the research and legwork, the rewards of a hunting road trip far outweigh the minimal costs of nonresident licenses and travel. So get out there and get after it!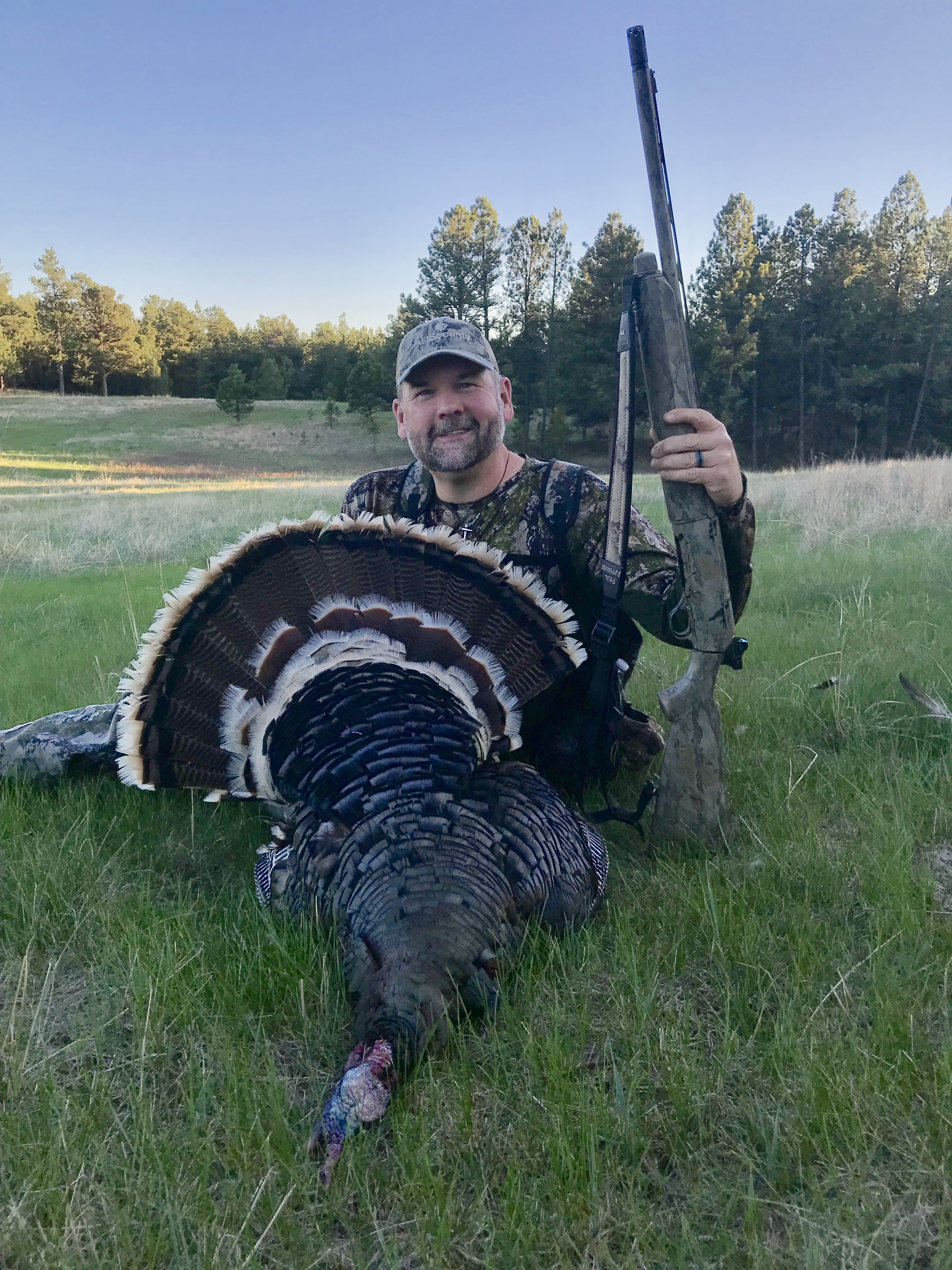 Read more >